Business Development & Project Management: Two Sides of the Same Coin Part 2: How We Keep Promises
If you haven't yet, read the first part of this two-part article where we dive into our philosophy on business development and how it's a part of our process every step of the way.
­Everything lives and dies through project management. After all, it's the thing that ensures a project stays on track. We're not just talking about coloring inside the lines, either—engineering projects are complex, multi-faceted, and can take some time. Project management makes that look easy, but the truth is that it involves "spinning multiple plates." That is to say, a lot is going on, and you can't use that as an excuse to drop something.
If business development is the first impression, then project management is the lasting impression. Without great project management, you might even finish a job, but something as seemingly straightforward as bad communication can cause a client to look somewhere else next time. We heard from Stewart Shunk and how he nails those first impressions. Today, we're hearing from Philip Pursley, Senior Project Manager, to see how he ensures our good impressions have staying power.
Philip Has Deep Roots in Project Management
Philip's been doing this for a while. We'll let him tell you just how long.
"I started my project management career with SKF industries, a bearing manufacturer. The responsibilities of that job took me all around the globe. From there, I made my way to ESF, where I project managed multiple high stakes educational facility projects for the University of Memphis and Southwestern University. I made a few moves in-between, and even worked as a licensed therapist (I have two Master's in mental health counseling.)
Eventually, Ascendant Facility Partners brought me into the fold, and now I'm the project manager. Long story short, I've made a career out of managing personalities, expectations, and highs stakes results."
Project Managers Build Rapport
Stewart and Philip were both involved in our amazing Paducah Tilghman High School project which is one part of an overall project for Paducah Public Schools. We asked Philip how project managing a school facility project brings with it its own unique challenges, specifically within the context of guaranteed energy savings.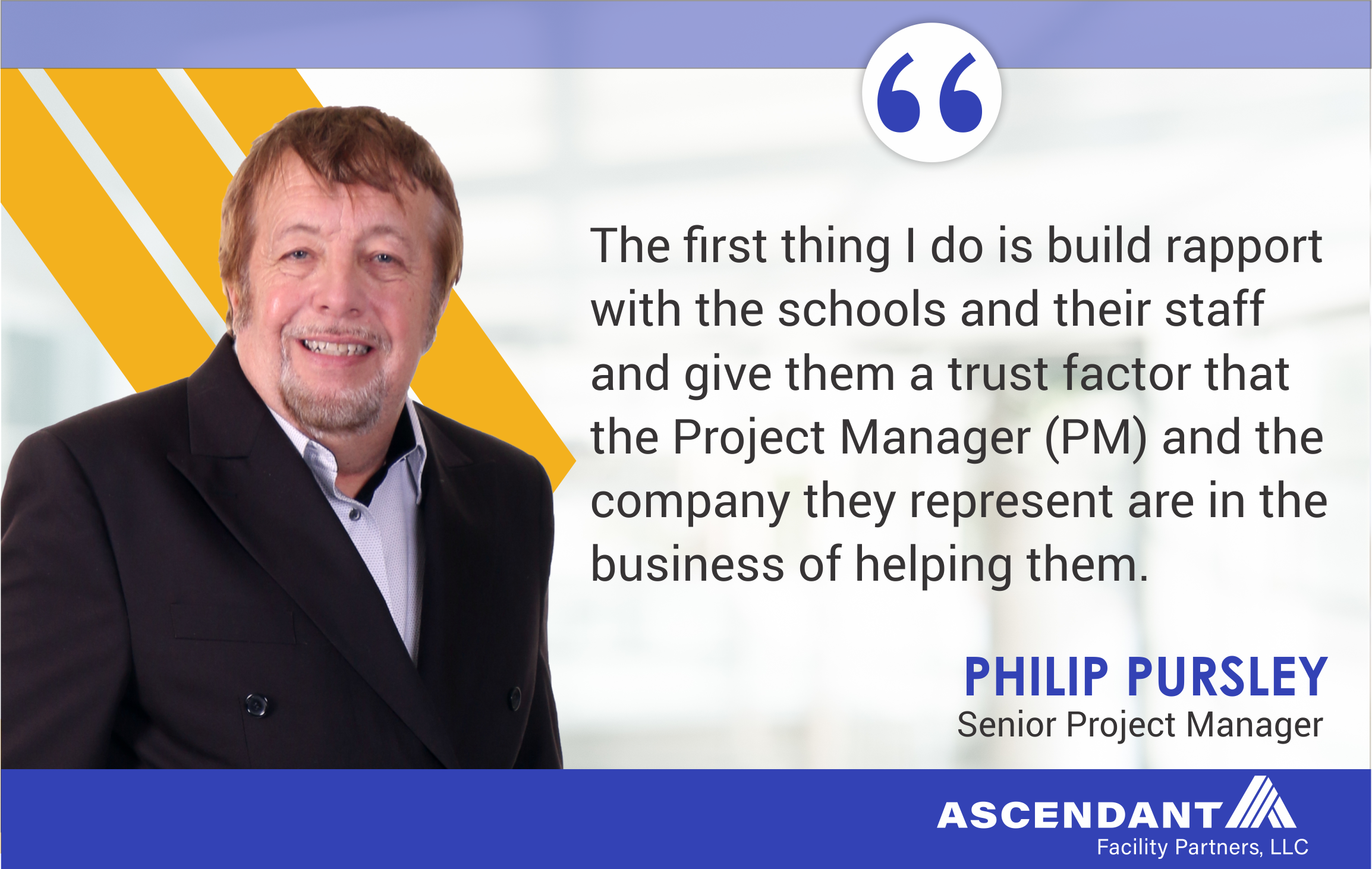 "In managing a GESC school project you must always understand that you are dealing with people that are in the education business, so most of the time they have very little experience in construction. The first thing to do is build rapport with the schools and their staff and give them a trust factor that the Project Manager (PM) and the company they represent are in the business of helping them run their school more efficiently and produce an improved learning environment.
During the entire project, the PM is the go-between for the GESC and the school. In my experience, this one-on-one relationship is better than two or three people being involved with the school—that can confuse the client, especially when they have concerns and don't know who to call.
Of course, the PM relies on the engineering staff to advise them on engineering issues. Especially if the issue is very advanced and beyond the PM's ability. To put it simply, I act as the go-between, and I work to make complex engineering language accessible to our client."
Chad Jezik, Director of Districtwide Operations-Paducah Public Schools, appreciated Philip's expertise. "There is a sweet spot between not really knowing the specifics of what is happening on a project and being overburdened with confusing technical information.
Philip was an asset—he kept us updated and made the information manageable, so we weren't left scratching our heads over jargon."
Project Management Never Ends
You might've heard your mom say something in the past like, "a mother's work is never done," especially when she's in the middle of cleaning up one of your messes. A PM has a similar dilemma—their work is never done. It's an ongoing effort to manage, maintain, and sustain everyone involved, from their colleagues to their clients. Philip expands on this.
"Once we do our assessments on a school facility, the team comes together to discuss their findings and develops the project for the Business Development Manager to take to the school board. I typically attend the board meetings to introduce myself to the school board and Superintendent. They will be seeing my face often, so they might as well learn to recognize it early on.
Once the project is approved, I meet with contractors to get quotes for the Energy Conservations Measures that we've developed. Next, I meet with the maintenance staff and the principals of the school to discuss the program and get their input. After this meeting, I meet with the contractors to develop a construction schedule. After the schedule has been completed, I must initiate a pre-construction meeting with the school staff (maintenance and principals) to review the schedule. When this meeting is complete another pre-construction meeting is held with our chosen contractor to discuss the project in its entirety.
My work doesn't stop there—after these meetings, I speak with the Superintendent to understand their expectations for the project. From there, we send bi-weekly notes to the Superintendent with pictures to keep them aware of the progress. It is very important that all news, both good and bad, is in the reports. If it is bad news, a solution to the problem needs to be discussed and in the report."
Philip brings up a good point. Part of being a PM is communicating the good with the bad. You must be honest, but honesty isn't all you need—you must back up bad news with an effective solution. That is the essence of managing a project.
Project Managing a School Facility is a High Reward Job
School facilities can be complicated, yet Philip finds these types of projects to be extremely rewarding.
"One of the most satisfying things about working for a GESC and collaborating with schools, in particular, is that a lot of schools have a limited budget to do any major renovations, so the students are trying to learn in an environment that is not conducive to positive learning. When a GESC project is complete you can see teachers and students are very proud of their school which cause better learning and better students."
That's exactly what we hope to do as a guaranteed energy savings company—to make facility improvement an accessible, even enriching experience to all, especially schools. Paducah Tilghman High School is a prime example of how you can make your operational process work for you, and make investing in your facility a no-brainer.