Business Development & Project Management: Two Sides of the Same Coin, Part 1: How We Make Promises
We sat down with our Business Development Director and Senior Project Manager to discuss what we believe are two sides of the same coin—business development and project management. After all, you can't have one without the other. They work in tandem, and they work together far more closely than you might think.
We wrote recently about our energy-savings project with Paducah Tilghman High School—take a look at it here. We learned a lot, but one thing that was reinforced was how important first impressions are, and how integral they can be to the follow-through. You might think business development ends once the dotted line is signed and that another crew takes over, but you'd be surprised how deeply ingrained Stewart Shunk, Business Development Director, is with the work we do.
Some Skill, Much Intuition
We first asked Stewart how he goes about drumming up business in the first place. "My honest answer is that that's classified, sorry! Joking aside, I can share some general advice, but, to be honest, much of what I do is intuition-based and hard to spell out!"
Stewart thinks for a moment before continuing. "Contrary to many rookie business managers, it's not about the low bid. It's not about the money at all. It's about building value by making what we call value-based decisions. These are decisions that are as equitable as they are profitable. Once you prove to a client that you have their best interests in mind, and are, in fact, able to anticipate their interests, then you're suddenly in the business of building and leveraging trust. Believe it or not, these two intangible things, Equity and Trust, are much more profitable (for everyone) than the bottom line.
A good friend once told me that life is a contact sport. I agree with that wholeheartedly. Conducting yourself as a person who is part of the solution and doesn't just want to sell something is a strong way to differentiate yourself from the competition. Work to understand your clients' issues, then work to help them solve them. If you do what you say you will do and make something right when it goes wrong—those are valuable keys to sustainable success."
It Takes the Right People
In 1989, Stewart started his sales and business development career as a building services representative for Honeywell.
"In my career, I have participated in over $500,000,000 worth of energy efficiency projects implemented with state and local governments, universities and private Colleges, K-12 Schools, and US government housing. I have been a part of successful projects in Arizona, Colorado, Texas, Tennessee, Mississippi, Alabama, and Kentucky."
To Stewart's satisfaction, all the energy-efficiency projects he's collaborated on have paid for themselves in the end. Guaranteed energy savings has become a point of pride for him, and something he loves to be a part of.
Listening is a Dying Art
"Listening is a dying art," says Stewart. Yet, he's quick to expand on that often-repeated thought. "You'd be surprised how few of us listen to each other, and that's the easy part. Knowing what to do with the information you are given is what stands us apart even further. Solutions don't come out of thin air, especially if they are good solutions—they require thoughtful questions, authentic listening, and knowing what to do with what you heard."
Our ability to listen, communicate, and understand can only set us apart so much. We asked Stewart what we do to stand out among the rest of the guaranteed energy savings companies in our region.
"That's a unique challenge for us right now.  Since we are a relatively unknown, new start-up entity in this mature space in Kentucky, we are initially focusing on letting everyone we can know we are here and are out there.  Get the word out, spread it, and remember the name!
We've recently finished a very successful project for Paducah Tilghman High School so that work speaks for itself. When you succeed at a large-scale, community-oriented project, that work ripples outward. We're just beginning to reap the reward of recognition among that sector, and I'm excited to see what's next."
We asked Donald Shively, Superintendent of Paducah Public Schools, what set AFP apart from the other GESCs they could have worked with.
"We had a gut feeling that our school facilities needed some work, but AFP came to us with an honest, thoughtful, and precise plan for improvement. It gave us the confidence to not only proceed with the improvements but to have the certainty that those improvements would actually benefit our operational bottom line, making the work effectively pay for itself."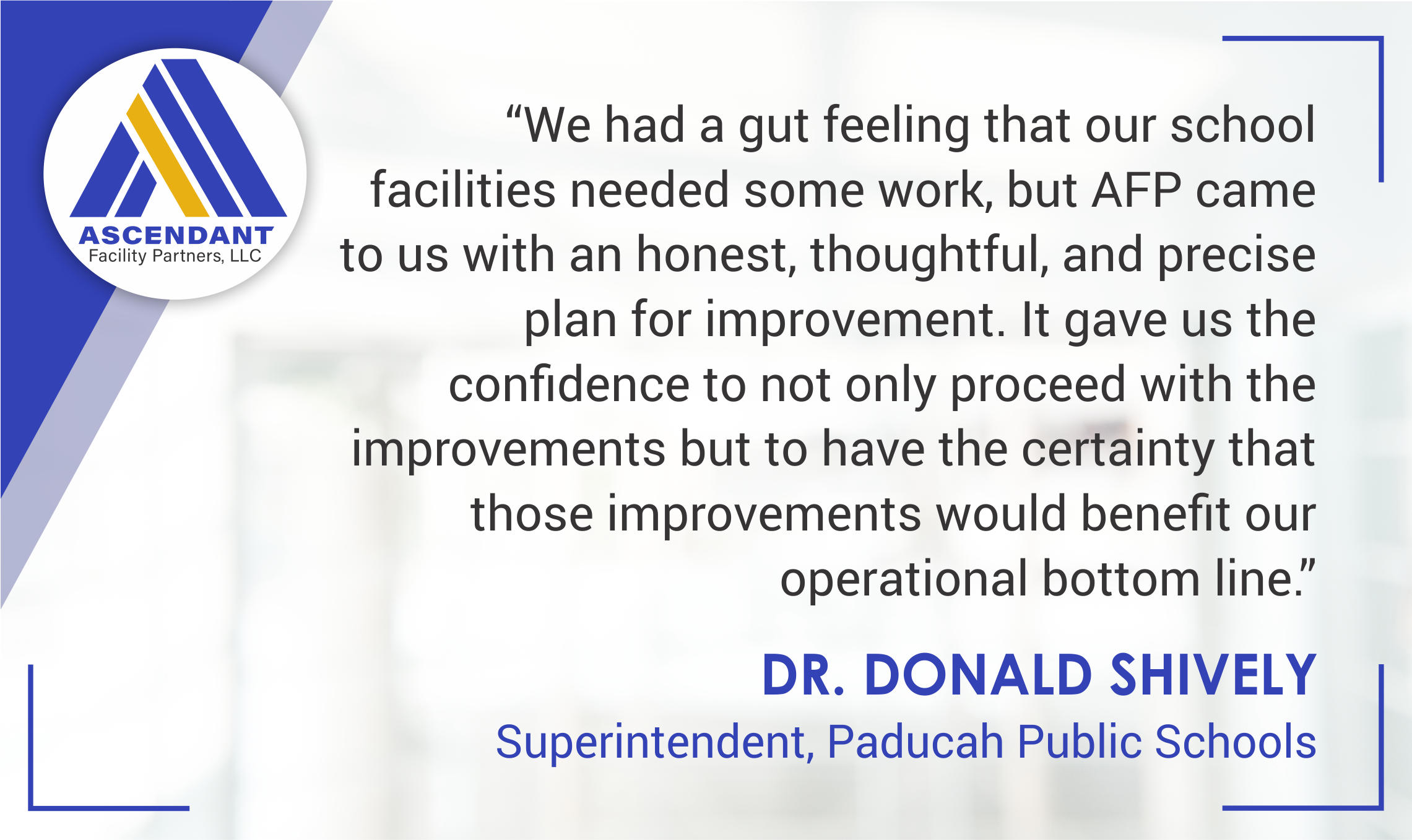 Stewart continues that thought. "We are no strangers to the Paducah Public School systems. Using and supporting long-term clients with integrity is a key element in deeming ourselves worthy in this market space. People like to buy from people they know. The fact that our reputation precedes us means we're doing something right. Our principals Baccus, Russ, Mark, David and J.P. are well known for a reason."
Business Development Doesn't End with a Contract
Stewart doesn't like it when he works with a sales manager only to never see their face again once they have his signature. There's something deceptive about compartmentalizing your people so completely. That's why he sticks with projects even after he's finalized them.
"I'm involved in some capacity from inception to conclusion of all of our projects.  From initial assessment, installation, construction, or fulfillment; I'm visible and available.  I will also be involved in helping determine that the savings promised are being realized. As a business development director, I'm in the business of making promises. If I'm not there while the promises are being realized, then what good is my word?
Part of my job is to project manage and quarterback the overall development process internally, and educate the client on what to expect externally, then manage those expectations throughout the life of the client relationship.  This strategy keeps it simple for the client and frees them from the burden of not knowing what we're up to, or of whom to ask their questions."
It's All for the "Win-Win"
We asked Stewart what thrills him most about his job. "What drives me externally is seeing our clients get the much-needed improvements they need and gaining a sense of satisfaction by being an integral part of that success.  This, to me, is the classic ­win-win scenario.
What drives me internally is being a part of a winning team that is grounded, but still pushes for solid growth by working with each other for our clients.
Beyond that, many of my coworkers and even some of our clients are people I can spend time with outside of work.  The fact that we're all on the level, and all serving the same community gives me a lot of satisfaction.
However, the thing that drives me the most, that I've worked my entire life for, is to be a part of the growth and success of a respected organization that serves our community and region. I can finally trade my 30+ years of wisdom and share it in a space that benefits the present and future. Guaranteed energy savings is a legacy more than anything."
In Part 2: How We Keep Promises, we'll explore project management by speaking to Philip Pursley, Senior Project Manager.