Celebrating Sustainability
The United Nations Educational, Scientific and Cultural Organization (UNESCO) created "World Engineering Day for Sustainable Development" in 2019. They wanted the day to "raise awareness of the role of engineering in modern life, which is essential to mitigate the impact of climate change and advance sustainable development."
As a Guaranteed Energy Savings company, we're proponents of sustainable engineering and are thrilled that UNESCO is raising awareness. We think sustainable design, when done thoughtfully, lasts longer, does more for the community, and makes the world a healthier, happier place. We sat down with Russ Litsinger, Managing Principal and JP Kelly, Construction Principal to talk a bit about the engineering and execution of sustainable work.
What Does Sustainable Design Look Like?
"Sustainable design is about sustainable principles. You can't just go into it with a good-faith effort; you must have tenets in place." explains Russ. "There is a path to follow. Taking shortcuts takes you off that path."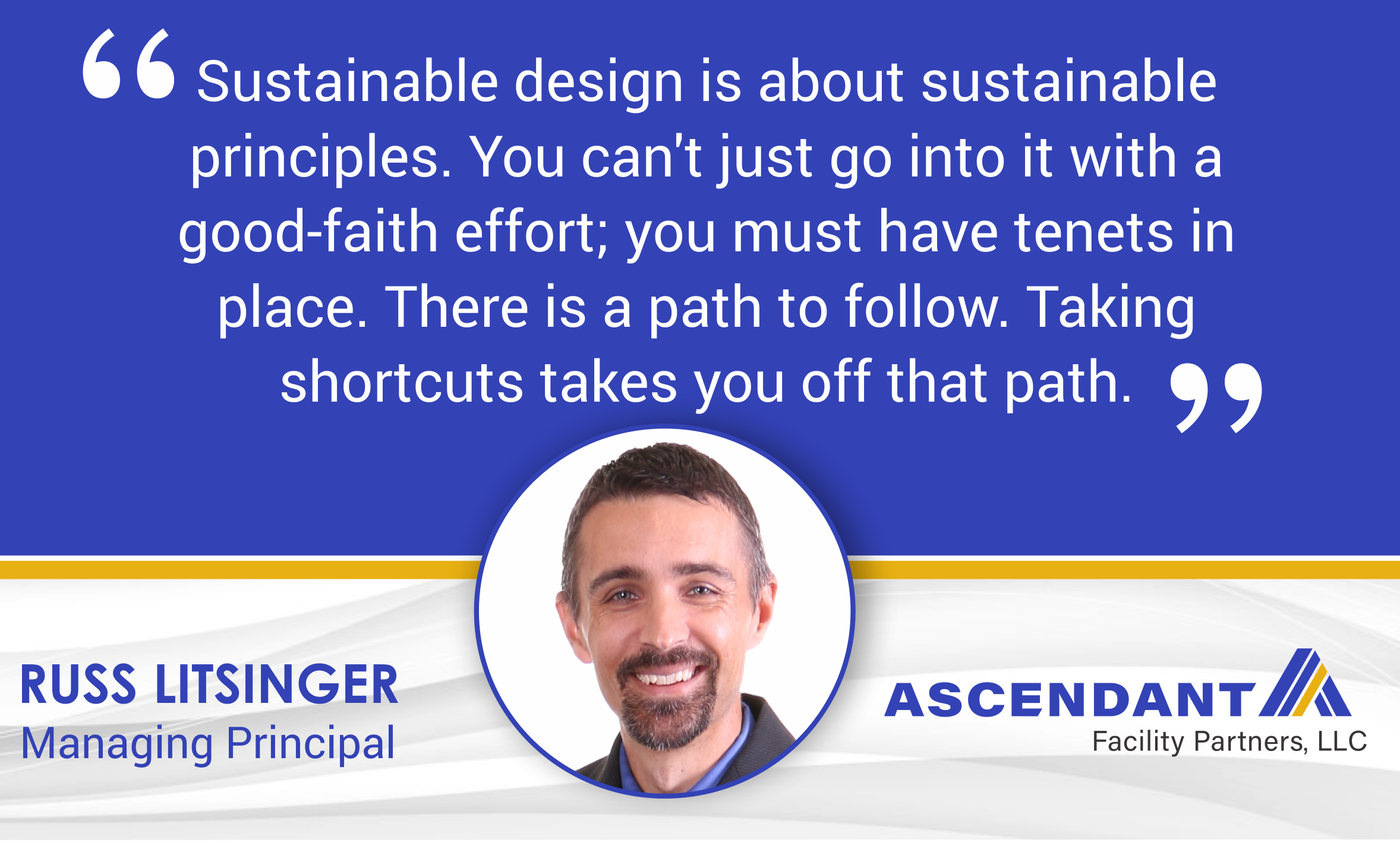 We asked Russ to share a few of his tenants of sustainable engineering. "I break the idea into 3 parts; Mission, Conversation, and Renewal. You should start with a clear mission of sustainability in mind. Then, you must communicate the goal and the purpose—that's the conversation, and it's ongoing.
Finally, you must design around the concept of renewal; how can we build systems with longevity and ones that can live second or even third lives? How can we design processes to take advantage of sustainable, reused, or reusable materials?"
Sustainable Construction is Important, Too
Engineering facilities with great energy efficiency is the "what". But what about how you build and renovate these buildings? Sustainable construction is just as important to a guaranteed energy savings company that is invested in sustainability. We asked JP for his insight.
"As construction specialists, we are expected to deliver the project to its design. As a GESC, sustainability is the end goal; it's as important as energy savings, and usually goes together. Our designs are built upon the most applicable sustainable designs for a client because we know that sustainable performance yields long term savings.
Yet, construction can be a messy and, at times, wasteful process if you aren't purposeful. What the construction team can add is sustainable construction.  Examples are responsible sourcing of materials, following dust control practices to maintain high levels of indoor air quality, and sorting and recycling construction and shipping materials. To put it simply, we're proponents of a healthy environment and community, so we take measures wherever possible to meet that goal."
We are Sustainable by Design
"I always tell clients, explains Russ, "that sustainability, from an engineering standpoint, is a win-win situation. It will always save you money—sustainable designs last longer, help more people, and do more while using less. The only limit to your return is time, and facilities are meant to last a lifetime."
JP agrees. "There is no such thing as a functional design at AFP. We aren't here to get you new lighting or new mechanical equipment with some kind of flowchart or multiple-choice questionnaire.
Instead, we will design and construct for you a sustainable ecosystem that is the lifeblood of your facility. The energy savings produced through that design is the ingredient that makes all of this worth it, and delivering in  a sustainable method is the first step in your facilities' positive transformation"
Sustainability; No Longer a Novelty
"I'll go back to what I said earlier about the conversation," answers Russ. "It's important to communicate your goals to clients, especially as a guaranteed energy savings company. There are a lot of assumptions out there that do not serve a client's best interests."
"We are seeing more and more education on sustainable practices, too. There's been a philosophy shift around the concept," JP adds. "Still, we encourage a conversation with clients. We explain that sustainability is not a cost driver. Rather, it's a way to responsibly upgrade their assets. Sustainability throughout the process, that's an AFP core principle."
Sustainability Means Care
"Care and thoughtfulness—that's a tenant of engineering and in sustainability. Doing things the right way because you care about the result it will have," explains JP. "At the end of the day, the good work we do comes down to each team member caring about the process—the entire process.
That means care in sustainable design and care in sustainable construction practices.  You can judge the level of care and intentionality on a job site from the coordination meetings to how the job is being executed in the field. It's in the air. When you work this way, the client benefits, but so does the community at large. As Russ said, sustainability, by modern standards, is a win-win."