Project Overview: Paducah Tilghman High School
"We had suspected there was room for improvement operationally for Paducah Tilghman High School, but we didn't appreciate the extent until Ascendant Facility Partners became involved." explains Chad Jezik, Director of Operations at Paducah Public Schools.
Chad was one of the many collaborators involved in the energy-saving improvements made to Paducah Tilghman High School. His reaction mirrors the reactions of almost all our clients; they suspected that they weren't operating at 100%, but had no idea just how much money was being wasted through inefficient or outdated systems. At Ascendant Facility Partners, that's precisely what we do; provide clarity through certainty. Ultimately, we give you the confidence to have confidence in the way your facility operates.
Working Collaboratively: Short & Long Term
When we first sit down with clients interested in our Guaranteed Energy Savings offerings, there is a balancing act. That is, we must understand our client's most urgent issues as well as their long-term ideals. A Guaranteed Energy Savings Company like ours isn't about "putting out fires" but if there are "fires", we certainly need to address them. Russ Litsinger, Managing Principal, explains this process further.
"Our approach to energy-savings projects has always been customer-centric. We begin these projects by first sitting down with the client and working collaboratively to understand and formalize both their most pressing needs and their long-range goals.
We often have an intuitive sense of the unique opportunities and challenges associated with their facilities. Only after we have a good handle on their goals do we begin a formalized process of conducting energy-savings opportunity assessments.
This typically begins with a high-level audit to identify potential areas of improvement. Once this is completed, we review these potentials with the client to gauge their interest before proceeding to the next step, which is our detailed audit. This audit phase includes discipline and systems-specific reviews geared toward the preparation of potential Energy Conservation Measures (ECMs)."
As we've said many times in the past. We aren't a "one size fits all" energy-savings company. We listen, we collaborate, we share our expertise, and we build a comprehensive, multi-level strategy that has a lasting and profound effect on your facility operations. That's exactly how we approached Paducah Public Schools across their district, which includes the Paducah Tilghman High School project.
Our Process is What Sets us Apart
How do you even start diving into the energy efficiency of a facility? Buildings, generally, are complicated and often chaotic. This can make them difficult to unravel. However, that's where an engineer's touch comes in. When you follow a scientific process, you can make sense of anything. Baccus gives us a peek into that process.
"Each facility we work with is unique and has to be assessed independently. However, we first assess a building's Energy Use Intensity (EUI) to identify how it performs with regard to energy.
A EUI rating is like an MPG rating for automobiles. It breaks down a lot of complicated mathematics into a simple number that anyone can look at and measure. Using the EUI we can quickly see if a building has potential, which thanks to the EUI, can be quickly measured against the system upgrades we have in our wheelhouse. These improvements can tangibly affect the EUI, so we can simulate our impact and easily illustrate that impact to our clients.
We then analyze all subsystems looking for Energy Conservation Measures (ECMs) that can be implemented to improve the overall EUI. Many ECMs will be employed to get the best return on our client's investment. We can dive into the intricacies of our plans if you want to get technical, but we can also break our energy assessment down into a series of simple numbers and dollar values to present exactly what we aim to achieve for you, versus what you're achieving currently."
How We Are Bringing Paducah Tilghman into the Future
Baccus Oliver, Design Principal, has a lot to say about the future of school facilities. He's a strong believer that children deserve the best that we can give them. Which means healthy, thoughtfully designed buildings that don't just shelter their occupants but help them in other ways. Believe it or not, good design makes you feel good, both mentally and physically.
"Paducah Tilghman was better than average for your typical high school. They are progressive and provide high-quality education, which means their decision makers are receptive to the kinds of design philosophies we're touting as a GESC.
As an example the Paducah Public Schools administration was forward-thinking in improving the high school's HVAC system for its occupants' health and the improved maintenance cost. The previous system had reached its end of life but was still functioning with much attention. Having upgraded the HVAC system will allow them to focus time and costs elsewhere in the district."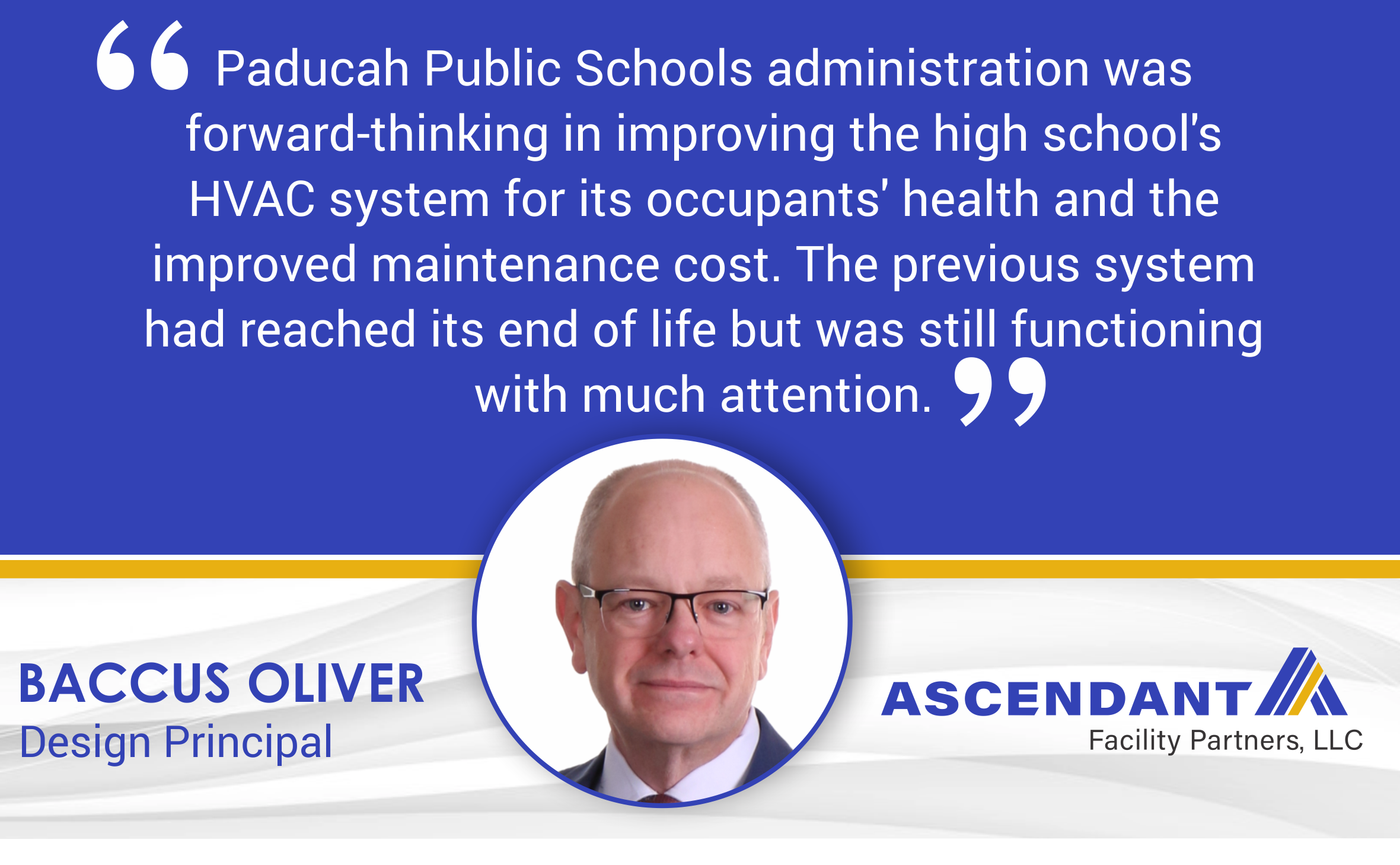 Baccus brings up a good point; when you act with an open mind, you often fall on solutions that aren't so obvious. In many cases, a facility would simply keep its current HVAC system running even if it meant constant maintenance. Yet, think about the operational cost of all that attention, and think of the resources diverted from elsewhere; after all, the squeaky wheel gets the grease. The thoughtful improvements we made at PTHS create a positive ripple effect of resource allotment throughout the Paducah Public Schools district.
We Are Client-Focused (Our Improvements Show It)
Here's what we did for Paducah Tilghman High School, broken down:
Thermal envelope improvements
Water conservation measures
Kitchen hood upgrades
Kitchen freezer & cooler upgrades
HVAC equipment upgrades
HVAC boiler upgrades
Heat-pump loop pump upgrades
DDC control platform upgrades
Exhaust and ventilation control optimization
Interior and exterior lighting upgrades
Vending machine upgrades
Water-source heat pump upgrades
Destratification fan deployment
When you look at this list, you might scratch your head at a few of the terms. However, the complexity of some of these items illustrates the importance of collaboration. When we speak to a facility like PTHS, we will receive input about a few high-priority items from its management. Yet, most people wouldn't even know what a thermal envelope was, or what a DDC control platform does. That's where we come in; we listen to you, then we conduct our own analysis to find holistic improvements that are often more technical, and less obvious to non-engineers.
Many of the improvements are related to air handling. Russ explains why these improvements are as important as they are challenging.
"Every project is unique because every client's facility and associated needs are unique. Many districts are challenged to keep their HVAC systems up-to-date due to not only the complexity and the relatively high costs of these systems, but also due to the difficulty of achieving significant improvements during non-instructional periods. To put it simply, you have a very limited time in which to make these improvements without disrupting the day-to-day operations of a school."
So, how does a firm like AFP overcome the constraints of a school facility? Russ has that answer.
"We've cultivated a fully integrated design/build solution that is perfectly tailored to the needs of a GESC project. Our solutions offer the unique advantage of a robust design, effective cost control, and sophisticated project management, which all help to mitigate the most pressing challenges associated with making needed investments to these systems."
To put it simply, we've been doing this a while, and we know how to do it well. We have a firm project management process in place, and we've done enough work with schools to know how to be as unobtrusive as possible.
Efficient Schools Can Be Smarter with Their Money
Chad has a few thoughts on why school facilities should investigate guaranteed energy savings. "The point of working with a GESC like Ascendant Facility Partners isn't just to save money. The energy savings we achieve will allow the district to spend more money on its students. All their work on our facility is meant to free up resources that would otherwise be allocated to operations, which don't immediately impact our kids. We don't want to be efficient to save money, we want to be efficient, so we have an abundance of time and energy for our young people."
Baccus has a similar philosophy toward energy efficiency, and what it ultimately achieves. "When we're done, the money we save goes where the owner wants it to. It's that simple. But, thank goodness they have the fortunate situation to decide. Some improve their general fund (basic fund in which all expenses are paid), and some choose to invest the savings into their next highest needs in facilities management.
What I'm getting at is that it's our job to provide a facility with a certain privilege and luxury. We want to have the privilege to be strategic with your budget. We want you to have the luxury to feel like you're doing more than treading water when it comes to money. Where that money goes; that's up to our clients."
We Do it For Our Future
Don't get us wrong, AFP is a business, and we are privileged to work in our passion. We chose to be pioneers of the GESC industry because we wanted to have a hand in changing the landscape of future facilities operations, especially when it comes to schools.
Russ wants healthy, happy, and informed students. "Myriad studies have shown that when we improve a school environment with better indoor air quality, improved lighting performance, reduced background noise levels, and improved thermal comfort, test scores improve, absenteeism is reduced, and employee retention is improved.
Many of us feel a sense of responsibility to be good stewards of our energy resources. By reducing energy waste and being proactive about educating and advocating for energy efficiency, schools can use these projects themselves as an educational tool to instruct a rising generation about the need to be active participants in energy conservation and environmental stewardship."
That, right there, is the reason we're doing this. We want to lead by example. We want to change the baseline for excellence when it comes to facilities and how they operate. If we don't do it now, when should we? We have the tools and we have the resources.